Description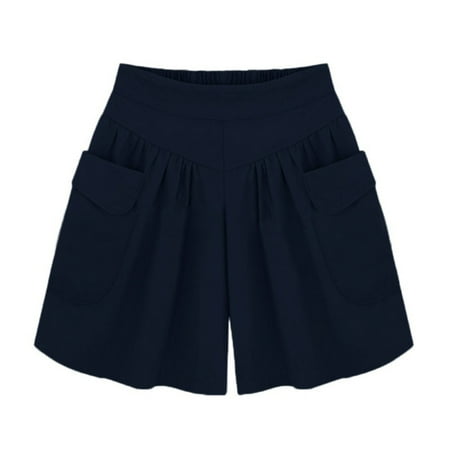 WalmartPrice: 8.01$
Women Plus Size Solid Loose Hot Pants Pockets Lady Summer Casual Shorts Product Description: A basic classic style shorts! Soft, sleek fabric with a modern wide-leg cut and pure color for added appeal. Elegance and simplicity is the focus on design, is a casual wear wild single items. Elasticized waistband. Season:Summer Gender:Women Occasion:Daily,Casual Material:Cotton Blend Pattern Type:Solid Style:Casual Pant Style:Regular Fit Type:Loose What you get:1 X Pant Please check the Size Chart before order. If you are not sure the size, please send message to us. Size Waist Hip Length L 68-88cm/26.8-34.6″ 126cm/49.6″ 40cm/15.7″ XL 72-95cm/28.3-37.4″ 130cm/51.2″ 42cm/16.2″ 2XL 76-100cm/29.9-39.4″ 134cm/52.8″ 44cm/17.3″ 3XL 80-105cm/31.5-41.3″ 140cm/55.1″ 46cm/18.1″ 4XL 85-110cm/33.5-43.3″ 146cm/575″ 47cm/18.5″ 5XL 90-118cm/35.4-46.5″ 152cm/59.8″ 48cm/18.9″
SOFT MATERIAL: Women' s trendy shorts are made of good fabric, fabric, breathable and sweat-absorbing, skin-friendly, non-deformed, elastic and smooth, and comfortable to wear. CLASSIC DESIGN: The Elastic Waist and pants of this pant create a flattering silhouette, unique design and soft knit made you comfortable and elegant.Elastic bands take the pressure off the waist. Be extra fashionable while doing your daily activity with these high-quality shorts. RELAXED FIT: Hitting just above the knee, wearing it you won't feel too tight and uncomfortable. These shorts provide comfort and an unrestricting fit for anything your day sends your way. FUNCTIONAL SHORTS: Ideal for running, dancing, yoga, walking, exercise, home, daily wear, etc. Combine cotton tops to make your daily workout and home gear more appealing. PERFECT GIFT FOR HOLIDAY:These stylish and comfy pants make a great gift to yourself or as a birthday, anniversary, holiday, or Christmas gift to a spouse or elder.
Women Plus Size Solid Loose Hot Pants Pockets Lady Summer Casual Shorts Product Description: A basic classic style shorts! Soft, sleek fabric with a modern wide-leg cut and pure color for added appeal. Elegance and simplicity is the focus on design, is a casual wear wild single items. Elasticized waistband. Season:Summer Gender:Women Occasion:Daily,Casual Material:Cotton Blend Pattern Type:Solid Style:Casual Pant Style:Regular Fit Type:Loose What you get:1 X Pant Please check the Size Chart before order. If you are not sure the size, please send message to us. Size Waist Hip Length L 68-88cm/26.8-34.6″ 126cm/49.6″ 40cm/15.7″ XL 72-95cm/28.3-37.4″ 130cm/51.2″ 42cm/16.2″ 2XL 76-100cm/29.9-39.4″ 134cm/52.8″ 44cm/17.3″ 3XL 80-105cm/31.5-41.3″ 140cm/55.1″ 46cm/18.1″ 4XL 85-110cm/33.5-43.3″ 146cm/575″ 47cm/18.5″ 5XL 90-118cm/35.4-46.5″ 152cm/59.8″ 48cm/18.9″
This site contains affiliate links to products. I may receive a commission for purchases made through these links at no cost to you.