Description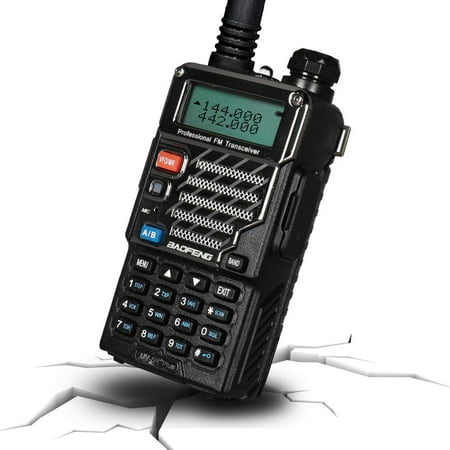 WalmartPrice: 29.99$
Baofeng UV-5R Plus UHF/VHF Dual Band Amateur Radio Handheld Radio Complete with durable metal shell, updated and fashionable frame, more robust than UV-5R Compatible with UV-5R 3800mah extended batteries as well as other 5R series accessories. Light weight and versatile, full HD color LED display, exquisite and clarity Programming Tips: How to program Baofeng UV-5R series? CLICK HERE Functions: 1. Frequency Range: 144-148MHz, 420-450MHz (TX) | 144-148, 136-174MHz, 400-480MHz (RX) | 65-108MHz (FM RX Only) 2. Dual-Band Display, Dual Freq. Display, Dual-Standby 3. Output Power: 4 /1Watts 4. 128 Channels 50 CTCSS and 104 DCS 5. Built-in VOX Function 6. 1750Hz Burst Tone 7. FM Radio (65.0MHz-108.0MHz) 8. LED Flashlight 9. Large LCD Display 10. High / Low RF Power Settings 11. 25KHz/12.5KHz Channel Spacings 12. Emergency Alert 13. Low Battery Alert 14. Battery Saver 15. Time-out Timer 16. Keypad Lock 17. Monitor Channel 18. Channel Step: 2.5/5/6.25/10/12.5/25KHz Specifications: Frequency Range: 144-148MHz, 420-450MHz (TX) | 144-148, 136-174MHz, 400-480MHz (RX) | 65-108MHz (FM RX Only) Channel Memories: 128 Frequency Stability: ±2.5ppm Operating Voltage: DC 7.4V Output power: 4W / 1W (Max 5W) Dimensions(W x H x D): 100 x 52 x 32 mm Weight: 250g (including battery, antenna) Note Antenna Type: Compatible with SMA-Female Antenna Earpiece & Programming Type: Compatible with K-plug earpiece/cable Package Contents: 1 x Baofeng UV-5R PLUS Two Way Radio 1 x 7.4V 1800mAh Li-ion Battery Pack 1 x Antenna 136-174/400-479.995Mhz 1 x Earphone Mic/Headset 1 x Belt Clip 1 x Hand Strap 1 x User Manual 1 x Adapter 1 x Desktop Charger
FCC ID: 2AJGM-UV5R Upgraded Version of Baofeng UV-5R • Upgraded frame material. It's an extremely durable metallic-finish plastic material and looks better to boot. • Has a detailed two color LED high-res display. The screen is very easy to read in all environments. • It includes English, German & French languages. The user interface is optimized for ease of use. • Disclaimer: No License is required to purchase this radio, nor to Monitor (listen) to the many Amateur (Ham) Radio frequencies. However, an FCC License is required to Transmit (Talk) on Amateur Radio Frequencies in the USA. Please visit http://wireless.fcc.gov/services/amateur/licensing to learn more.
Baofeng UV-5R Plus UHF/VHF Dual Band Amateur Radio Handheld Radio Complete with durable metal shell, updated and fashionable frame, more robust than UV-5R Compatible with UV-5R 3800mah extended batteries as well as other 5R series accessories. Light weight and versatile, full HD color LED display, exquisite and clarity Programming Tips: How to program Baofeng UV-5R series? CLICK HERE Functions: 1. Frequency Range: 144-148MHz, 420-450MHz (TX) | 144-148, 136-174MHz, 400-480MHz (RX) | 65-108MHz (FM RX Only) 2. Dual-Band Display, Dual Freq. Display, Dual-Standby 3. Output Power: 4 /1Watts 4. 128 Channels 50 CTCSS and 104 DCS 5. Built-in VOX Function 6. 1750Hz Burst Tone 7. FM Radio (65.0MHz-108.0MHz) 8. LED Flashlight 9. Large LCD Display 10. High / Low RF Power Settings 11. 25KHz/12.5KHz Channel Spacings 12. Emergency Alert 13. Low Battery Alert 14. Battery Saver 15. Time-out Timer 16. Keypad Lock 17. Monitor Channel 18. Channel Step: 2.5/5/6.25/10/12.5/25KHz Specifications: Frequency Range: 144-148MHz, 420-450MHz (TX) | 144-148, 136-174MHz, 400-480MHz (RX) | 65-108MHz (FM RX Only) Channel Memories: 128 Frequency Stability: ±2.5ppm Operating Voltage: DC 7.4V Output power: 4W / 1W (Max 5W) Dimensions(W x H x D): 100 x 52 x 32 mm Weight: 250g (including battery, antenna) Note Antenna Type: Compatible with SMA-Female Antenna Earpiece & Programming Type: Compatible with K-plug earpiece/cable Package Contents: 1 x Baofeng UV-5R PLUS Two Way Radio 1 x 7.4V 1800mAh Li-ion Battery Pack 1 x Antenna 136-174/400-479.995Mhz 1 x Earphone Mic/Headset 1 x Belt Clip 1 x Hand Strap 1 x User Manual 1 x Adapter 1 x Desktop Charger
This site contains affiliate links to products. I may receive a commission for purchases made through these links at no cost to you.