Description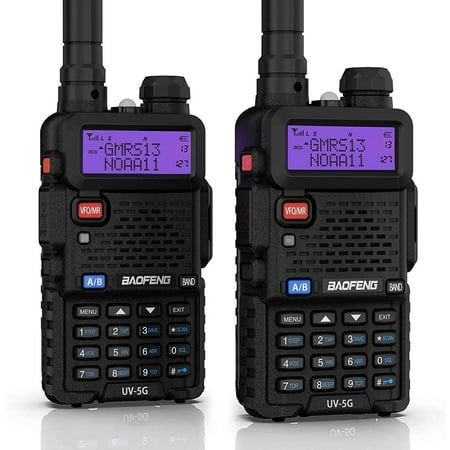 WalmartPrice: 64.99$
Why choose UV-5X (UV-5G)? UV-5G is a LEGAL GMRS handheld radio. These long range walkie talkies extend all the functions from UV-5R, but transmits only on the GMRS channels. The UV-5G offers GMRS performance as another addition to the familiar UV-5R series of radios. A true GMRS radio that will be a useful companion in your outdoor activities. FCC Certificated: Part 95E & Part 15B FCC ID: 2AN62-UV5G Please kindly know that UV-5G is an FCC Certificated model ( FCC Certification downloadable below). On UV band you can only receive but not transmit — this meets the requirements of FCC. ATTENTION! LICENSE NEEDED As a GMRS radio, UV-5G requires a license from the FCC to operate. This license requires no testing, just fill in the application and pay the fee. TIP! WHERE TO FIND REPEATER INFO Repeater info can be found on MYGMRS website (or its APP), it provides a decent list of repeaters. When used with a GMRS Repeater, the talking range of UV-5G is greatly increased. Why choose GMRS over FRS? GMRS repeater capable. UV-5G, the long distance walkie talkies, can take advantage of GMRS repeaters to get a more powerful, further-ranging signal. — This is not an option with FRS radios. GMRS radios allow Wide-band FM to provide a louder and clearer signal than the FRS radios restricted to Narrow-band FM with a lower power rating. The UV-5G provides more selectable channels than FRS radios, more CTCSS and DCS tone options to reduce unwanted signals. Cross Compatible Compatible with all accessories of UV-5R ham radio series, such as 3800mAh battery. Easy to find backup parts on market or from your previous radios. Compatible with BAOFENG new six-way charger. What's in the Box 2 x BAOFENG UV-5X (UV-5G) GMRS Radio 2 x SMA-M Antenna 2 x 7.4V 1800mAh Li-ion Battery 2 x Earphone Mic/Headset 2 x Desktop Charger 2 x Adapter 2 x Belt Clip 2 x Hand Strap 1 x User Manual
🔥[New Version from April] 1. Support editting CTCSS/DCS via keypad. 2. Support choosing wide/narrow band via keypad (except 8-14 CH). 3. Software supports saving and opening file in XML. 4. Support CHIRP. 🔥[2021 New GMRS] FCC ID: 2AN62-UV5G. A GMRS license is required. UV-5G is the GMRS version of the classic UV model. It features 30 GMRS pre-programmed channels. These long range GMRS radio are ready to go, right out of the box. Sold in a package of 2 radios, good things always come in pairs. 🔥[Longer Talking Range] UV-5G is repeater capable and has the 8 repeater pairs programmed in from Channel 23-30. GMRS power levels and wide-band capable signal will allow a further talking range than FRS radio. When used with a GMRS Repeater, its range is greatly increased. 🔥[Classic Design] Compatible with BL-5L 3800mAh extended batteries as well as other accessories of the classic series, except the SMA-M antenna. This rechargeable two way radio would work well with your other GMRS units. 🔥[Simple Operation] Easy to read with tri-color display. Most basic settings are accessed via the Menu and Keypad. VOX hands-free operation, 128 Channels, 50 CTCSS tones and 104 DCS. More advanced settings are available when connected to your computer. Support CHIRP, chose "UV-5X (GMRS version) (use Radioddity UV-5G))".
Why choose UV-5X (UV-5G)? UV-5G is a LEGAL GMRS handheld radio. These long range walkie talkies extend all the functions from UV-5R, but transmits only on the GMRS channels. The UV-5G offers GMRS performance as another addition to the familiar UV-5R series of radios. A true GMRS radio that will be a useful companion in your outdoor activities. FCC Certificated: Part 95E & Part 15B FCC ID: 2AN62-UV5G Please kindly know that UV-5G is an FCC Certificated model ( FCC Certification downloadable below). On UV band you can only receive but not transmit — this meets the requirements of FCC. ATTENTION! LICENSE NEEDED As a GMRS radio, UV-5G requires a license from the FCC to operate. This license requires no testing, just fill in the application and pay the fee. TIP! WHERE TO FIND REPEATER INFO Repeater info can be found on MYGMRS website (or its APP), it provides a decent list of repeaters. When used with a GMRS Repeater, the talking range of UV-5G is greatly increased. Why choose GMRS over FRS? GMRS repeater capable. UV-5G, the long distance walkie talkies, can take advantage of GMRS repeaters to get a more powerful, further-ranging signal. — This is not an option with FRS radios. GMRS radios allow Wide-band FM to provide a louder and clearer signal than the FRS radios restricted to Narrow-band FM with a lower power rating. The UV-5G provides more selectable channels than FRS radios, more CTCSS and DCS tone options to reduce unwanted signals. Cross Compatible Compatible with all accessories of UV-5R ham radio series, such as 3800mAh battery. Easy to find backup parts on market or from your previous radios. Compatible with BAOFENG new six-way charger. What's in the Box 2 x BAOFENG UV-5X (UV-5G) GMRS Radio 2 x SMA-M Antenna 2 x 7.4V 1800mAh Li-ion Battery 2 x Earphone Mic/Headset 2 x Desktop Charger 2 x Adapter 2 x Belt Clip 2 x Hand Strap 1 x User Manual
This site contains affiliate links to products. I may receive a commission for purchases made through these links at no cost to you.