Description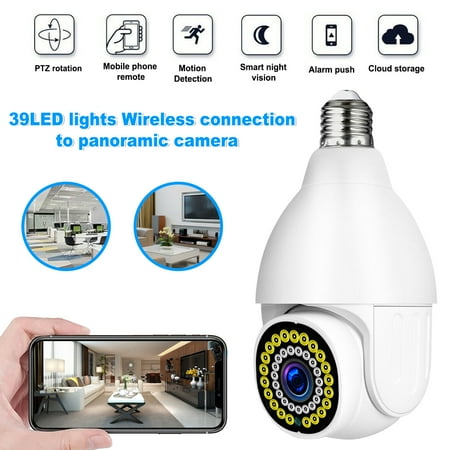 Walmart price: 52.39$
Feature: – Outdoor 1080P IP camera. – Cloud storage or TF card storage, video dual protection. – Compatible with E26 / E27 light socket makes it quite easy to installl this security camera, simply screw this camera into a light socket(110V~240V),NO DRILL, NO WIRING, no drill, no wiring, no power cable, no hard setup, then open the app to setup the camera within minutes.. – Infrared night vision, full color night vision, intelligent night vision, three monitoring modes. Switch for free. – High efficiency infrared array, low power consumption, lighting distance up to 50m. – High resolution, easy to switch at any time according to different environments and different needs. – Remotely monitor your family status through the mobile phone using the application anytime, anywhere. – Two-way voice call. – With motion detection alarm function, when you trigger an exception at home to send a message to a smartphone, an alarm will be triggered. – The camera has a hotspot AP, and usually does not monitor any network connection hotspots. Specification: LED: 39 LED Resolution: 1920 * 1080P Pixel: 2 million Pan / tilt rotation: 350 ° horizontal, 90 ° vertical Image sensor: 1/3 inch CMOS sensor Video compression: H.264/H.265 Audio input: built-in microphone Audio output: built-in speaker Alarm trigger: motion detection Memory: Up to 128GB memory card (not included) Working temperature: -20 ~ + 40 ℃ Package Included: 1 WiFi IP camera 1x E27 1x English User Manual 1 screw bag
As easy as replacing a light bulb to install the light bulb camera. Automatically senses and tracks the action in your indoor/outdoor in full 360°. 1080P Full HD security camera provides crystal clear videos and recordings. Make most use of cameras for home security as pet camera or nanny cam. Two way communications allows you to interact with those on camera.
Feature: – Outdoor 1080P IP camera. – Cloud storage or TF card storage, video dual protection. – Compatible with E26 / E27 light socket makes it quite easy to installl this security camera, simply screw this camera into a light socket(110V~240V),NO DRILL, NO WIRING, no drill, no wiring, no power cable, no hard setup, then open the app to setup the camera within minutes.. – Infrared night vision, full color night vision, intelligent night vision, three monitoring modes. Switch for free. – High efficiency infrared array, low power consumption, lighting distance up to 50m. – High resolution, easy to switch at any time according to different environments and different needs. – Remotely monitor your family status through the mobile phone using the application anytime, anywhere. – Two-way voice call. – With motion detection alarm function, when you trigger an exception at home to send a message to a smartphone, an alarm will be triggered. – The camera has a hotspot AP, and usually does not monitor any network connection hotspots. Specification: LED: 39 LED Resolution: 1920 * 1080P Pixel: 2 million Pan / tilt rotation: 350 ° horizontal, 90 ° vertical Image sensor: 1/3 inch CMOS sensor Video compression: H.264/H.265 Audio input: built-in microphone Audio output: built-in speaker Alarm trigger: motion detection Memory: Up to 128GB memory card (not included) Working temperature: -20 ~ + 40 ℃ Package Included: 1 WiFi IP camera 1x E27 1x English User Manual 1 screw bag
This site contains affiliate links to products. I may receive a commission for purchases made through these links at no cost to you.
Only $14.79 on Temu Join Here